Dive Shop in the center of town
Scuba Dynamics is a diveshop located in Desa Sri Hartamas. A nice cosy little shop which offers divers a one stop shop for dive equipment, certified courses and dive trips.
They were looking to revamp their website after many years of running things in-house.
Legacy of old files and naming methods
Scuba Dynamics had a talented bunch of people running their shop and one of them was gifted in doing and maintaining their own website. However, it came to a time when it was necessary to look for professional help to revamp their website's aged look.
The redesign took about 6 weeks from start to finish. In order to retain any incoming links, Eskaywoo had to retain the names of the files. However, it was made known to Scuba Dynamics that their file naming was to be changed to standard practice.
Future plans would be a revamp of the file names and convention be introduced, with a special file to redirect old links. This will preserve any incoming links as well as Google's cache and ranking for the pages.
Before and After
The website was to communicate professionalism and a heirarchy of information was determined through the many interactions with the staff of Scuba Dynamics. Since there were so many incarnations of the logo, it was decided internally that there should be time for the identity to set before any refresh was made. The old logo was retained and no attempt was made to refresh it.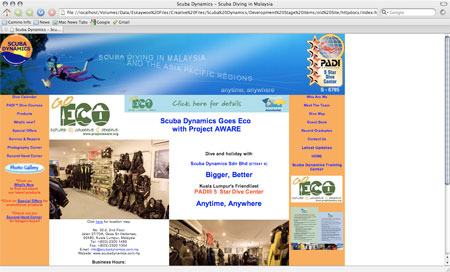 The old site had a confusing navigation.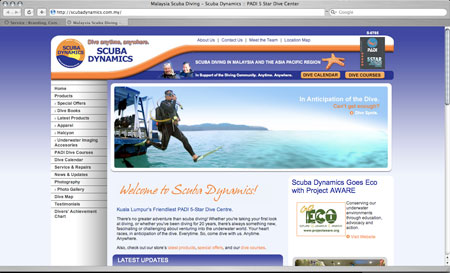 Cleaned up navigation of the new website layout.
Identity carried through
Since the namecards needed to be replenished, it was the opportunity to carry the new visual look to the identity. Thus further cementing the new identity for Scuba Dynamics.

Scuba Dynamics' current business cards sport a uniform identity with the website.