Nozomi Express, express growth
In just a short span of ten years, Nozomi Express grew from a small logistics company in Malaysia to a prominent freight forwarding company with reach from the north to the south of the country and even into its neighbouring country, Singapore.
SOS : Website Needed
With no proper website, Nozomi finally needed to create one that could communicate to it's more web savvy customers.
In the initial meeting, the scope of the website was discussed, outlined and would require the next few weeks to flesh out. Since the content was ready, there was the brand identity to follow.
However, it was also apparent that Nozomi did not have a consistent brand identity. The current signages, numerous logo versions and other identity components were used everywhere, but were inconsistent. Eskaywoo symphatises that when one starts up, brand identity may not be considered important. However, because there was no consistency in the application of the identity, 10 years accumulation really showed.
Scope Widens
We kindly put it to the client that instead of just doing the website, that the identity of the company be streamlined.
The identity already exists, but in many different forms. So Eskaywoo proposed to consolidate the identity elements and components, streamline and refine. A guide would also be introduced for the first time.

First Phase
Just as we started work, Eskaywoo took into account all the versions of the logo, and the identity elements. Some research was done to see which logo version was the most prominent to the customers.
The outcome was two possible directions.
A brand line was also conceived for Nozomi.
"The strongest link in your supply chain"

Choosing the right path
Upon confirmation of the direction, Eskaywoo proceeded to work closely with Nozomi to create a streamlined corporate identity. Items applied to were the corporate stationery, corporate profile, website, powerpoint slides template and vehicles.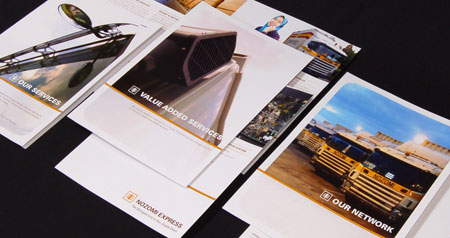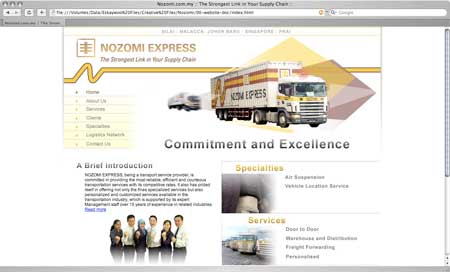 Beyond Branding
As they discovered that their current IT needs exceeded their capability, Eskaywoo also helped them secure a reliable web service provider. Armed with a semi-dedicated server, they are better poised to provide even more excellent service to their clients.