It started with a businesscard
Everything has a first step. And with Enhanced Wheels, this started with a simple business card.
The directors of Enhanced Wheels came to us to design and print business cards that communicated :
Meguiar's Service Centre
Passionate about cars
The Design Problem
Enhanced Wheels basically exists as a Meguiar's service centre. Hence the initial approach was to ride on this huge brand, of over a hundred years. Of course the immediate strengths of Meguiar's would be 'transferred' to Enhanced Wheels. Despite this apparent strength, Malaysia as a whole, has not really caught on with the brand of Meguiar's. Hence, it required some work to actually build up Meguiar's brand identity in the public's mind.
Building a name for Meguiar's was not a problem, as it was a pure marketting effort. Imagine 5 years from now. 5 long years of building a name, when Meguiar's is synonymous with car care and car crazy in Malaysia, it would be very easy for other set ups to use Meguiar's products and be seen as being an official service without saying so. Such is the strength of Meguiar's. However, the long term implications for Enhanced Wheels as a brand by itself was not as rosy.
Passionate Car care
In order to better understand their brand and service, Eskaywoo sent it's creative team to one of the car care clinics and workshops held by Enhanced Wheels. And boy was their passion evident.
We'll never look at a car wash centre the same way again after seeing and hearing what these guys do. Their passion is actually contagious.
EW wanted to ride on Meguiar's brand, as they were the official service arm for Meguiar's Malaysia. Of course it was fine for the short term. Eskaywoo advised them to slowly progress towards making a brand name for Enhanced Wheels.
Hence one of the products of the series of discussions and brainstorming sessions was the loyalty card programme. Eskaywoo aptly named it "Obsession" - simply because these people were obsessed. It showed their passion.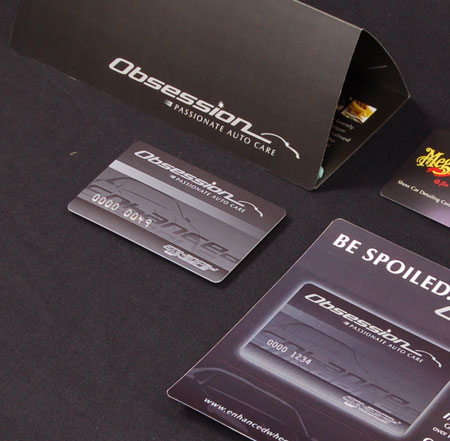 The 'Obsession' Loyalty Card programme bears the mark of Enhanced Wheels, while sharing the part of the brand identity of Meguiar's.
Easy as 1-2-3
In order to communicate this passion in the visual form, Eskaywoo and Enhanced Wheels collaborated to produce a series of posters. This set of three posters was to be descriptive, just enough information, more than people knew, but not too much to bore them.
The posters showcased:
Wash
Exterior Detailing
Interior Detailing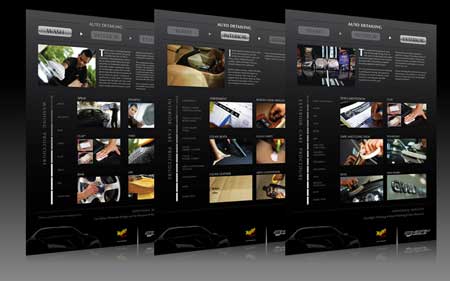 The set of posters explaining the steps they take to care for your car.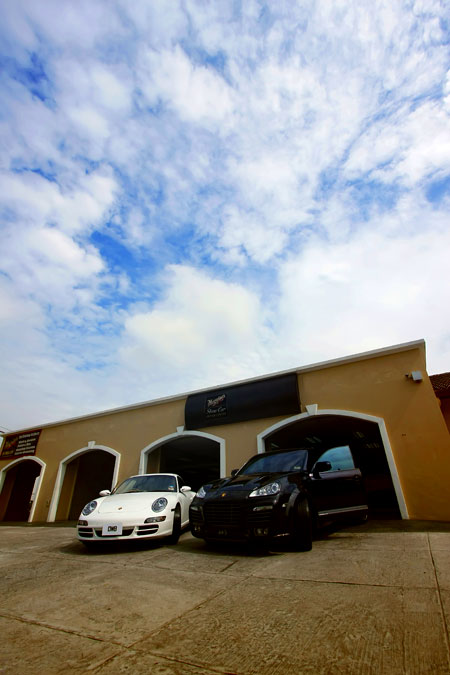 A great shot of recently detailed cars.
Our Preferred Photographer took some of these great shots.
Evolution and a step by step change
With the problem identified, Eskaywoo proceeded to plan for a step by step strategy that will continue to build Meguiar's presence and yet solidify Enhanced Wheels as a name that would be associated with car care.