Logam + Mahir
Logamahir is a word coined from the two malay words : "Logam" and "Mahir".
Logam : Metal
Mahir : Skillful
Logamahir (M) Sdn Bhd engaged Eskaywoo to look into making a series of brochures and a product catalogue for their range of brass water meters.
After an initial study of the identity of Logamahir, it was determined that the brand identity needed a new look to portray and communicate what the company did more clearly. Hence Eskaywoo embarked on a logo redesign for the company.
Historically, Logamahir was involved in making brass souvieniers in the past but now refocused to casting brass water meters that are marketed worldwide. After visiting their factory in Kepong and research done, the new logo was unveiled.

Second Phase
The new logo communicated the previous two initials of the words Logam and Mahir. LM formed a cast. Each Initial formed into each half of a metal cast. The core business of brass casting was communicated in both form and colour, using a yellow gold as part of the overall identity.
With the initial identity completed, brochures, a product catalogue and business stationery were created.
Eventhough Eskaywoo was not commissioned to do the website, the identity was sufficiently carried through by the web designer.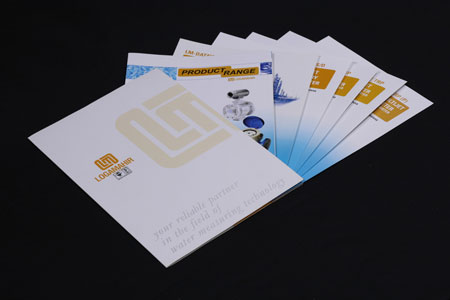 Corporate Folder, Catalogue and Product Brochures